Safe
Soft Wash

Roof Cleaning for San Antonio Homeowners
Your roof isn't dirty -
it's INFESTED!
It's true – those unsightly dark stains and streaks on your roof shingles are actually an infestation of organisms that impact your San Antonio home's appearance and property value. These organisms (or "pests", as we like to call them) are algae, mold, mildew and bacteria. These unwanted guests will eat and destroy wood, deteriorate roofing materials, and make your roof retain heat (raising cooling costs). Simply put, these pests are costing you money!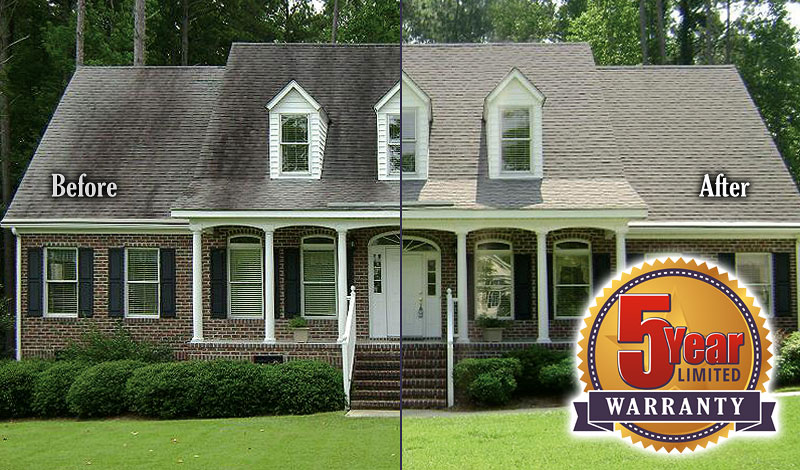 Soft Washing

VS Pressure Washing
Standard pressure washing only attacks algae, mold and mildew growth at the surface. Though the stains are gone, the roots remain, and the stains grow back thicker and blacker, usually within 6 months!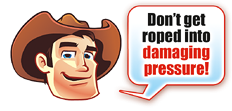 Big Guns Soft Wash's Non-Pressure System treats them like pests, not stains! We clean the roof surface and achieve a 100% kill-ratio on these unsightly, harmful pests.
THE BENEFITS of Choosing Big Guns Soft Wash
TOP 10 REASONS
To Get Your Roof Cleaned
Roof cleaning is a small cost that makes a HUGE difference!
2) Improves Roof Longevity!
Get the most out of your shingles with our 100% Biodegradable formula.
3) Decreases Energy Costs!
Removing black stains provides a more reflective roof surface and may help keep energy bills down.
Our roof maintenance program helps to maintain integrity of your roof.
5) Increases Roof Lifespan!
Prevent premature leaks and cracks due to algae, moss, and lichen.
6) Clean it, Don't Replace it!
Save thousands with roof cleaning, not buying a whole brand new one!
7) Manufacturer Approved!
The American Roofing Manufacturers Association (ARMA) recommends our 100% Eco-Friendly, affordable, and safe no-damage Soft Washing.
8) 5 Year Limited Warranty!
Every roof cleaning job we perform is backed by our industry-leading 5 Year Limited Warranty. View Warranty Details
9) Fully Trained & Certified!
We have completed all required coursework, have years of roof cleaning experience, and are UAMCC Certified.
Roof Cleaning stops mold and organisms from passing through your roof and into your attic.
Big Guns Soft Wash 5 Year Limited Warranty
We Warranty Against Re-Infestation
Big Guns Soft Wash will warranty against the dark re-occurrences of mold, mildew and bacteria on the roofing surface for a period of five years (60 months) from the date of our original treatment / cleaning.
We Warranty Against Damages Related To Re-Infestation
Big Guns Soft Wash will warranty the roof against damages that might be caused by the re-occurrence of mold, mildew and bacteria within the five year warranty period.
We Warranty Against Unlikely Damages Associated with the Cleaning
Big Guns Soft Wash will warranty the roof in the unlikely event that our men, equipment or chemicals cause proven damages to the roofing system.
We Guarantee That We Will Not Negate the Manufacturer's Warranty
Big Guns Soft Wash guarantees that our equipment and / or chemicals will absolutely not negate your manufacturer's warranty. If so, Big Guns Soft Wash will become the warranty holder on your roof and act in the place of the manufacturer honoring their manufacturers warranty.